Education & Examinations > Diploma in Family Medicine

Diploma in Family Medicine
Diploma in Family Medicine (HKCFP) 2019-2020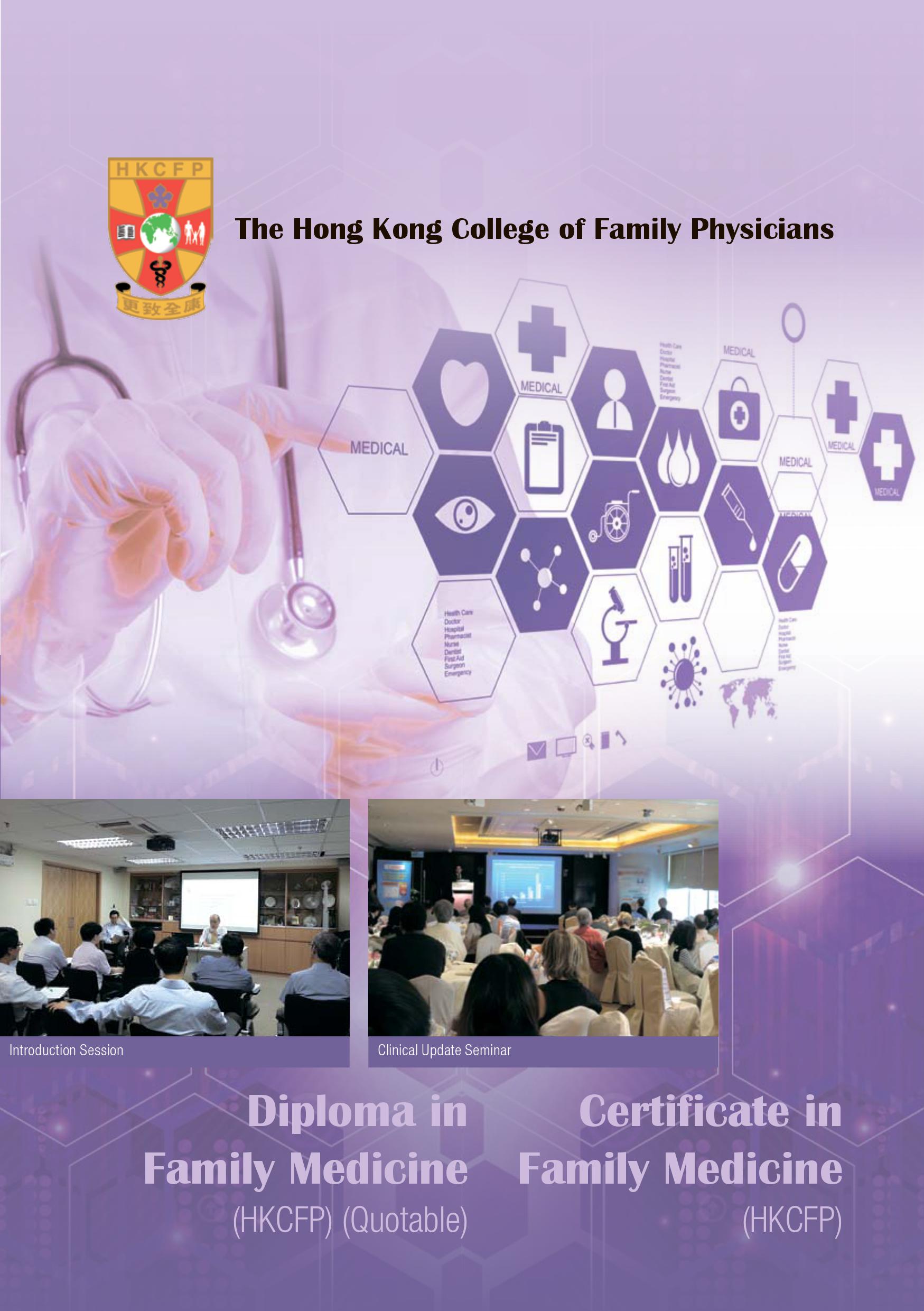 Applications are now open
The Board is pleased to announce that the Diploma Course in Family Medicine (DFM) organized by The Hong Kong College of Family Physicians will commence in July 2019.
The course consists of FIVE modules. Modules I & II will be delivered by Local Distance Learning. Modules III, IV & V consist of lectures, seminars, tutorials, workshops and clinical attachments. The whole course requires ONE year of part-time studies.
Details of the course are as follows:
1. Objectives
i) To provide knowledgeable, pragmatic and structured teaching in Family Medicine for medical practitioners.
ii) To encourage professional development of practising medical practitioners and to provide an intermediate step to fellowship qualifications in Family Medicine.
iii) To improve standards and quality in the practice of Family Medicine.
2. Syllabus:
The course consists of FIVE compulsory modules. Doctors who have graduated from the course are expected to have acquired:
i) Current concepts about nature of Family Medicine
ii) Knowledge and skills in consultation, counselling and problem solving
iii) Knowledge and skills in common practice procedures and emergency care required for good quality family Practice
iv) Understanding towards the role of Family Doctors as gatekeepers of the health-care system and in providing cost-effective primary care to the community
Awards/Credits:
i) A Diploma in Family Medicine issued by HKCFP will be awarded to candidates who have satisfied all the requirements and have passed all the required assessment and the Final Examination.
ii) The Diploma is a Quotable Qualification of The Medical Council of Hong Kong.
iii) 50 CME and 10 CPD credit points will also be awarded to candidates at satisfactory completion of the Course by the QA & A Committee of HKCFP.
The details of syllabus, course fees and application form are obtainable below:
| | |
| --- | --- |
| Diploma in Family Medicine 2019-2020 | PDF |
| Introduction to Diploma in Family Medicine (HKCFP) 2019-20 | |
| Application Form for Diploma in Family Medicine (HKCFP) 2019-20 | |

The Application Deadline is 30 June 2019.
(A discount of HK$3000 for early birds who apply on or before 17 May 2019)
For HKCFP membership application, please click here.
Enquiries
For any enquiry, please contact the HKCFP Secretariat, Ms. Alky YU at 2871 8899 or email to dfm@hkcfp.org.hk