About HKCFP > President's Message

April 2017
March proved to be a busy month.



The Cross Strait Exchange conference was hosted at Xiamen, Fujian from 17th to 19th March. This year, the College had sent a delegation of nearly twenty headed by our Censors, Dr. Donald Li and Prof. Cindy Lam. The first day we had witnessed the first batch of three recipients of HKCFP Donald Li Scholarship. The scholarship was jointly presented by Donald and Prof. Amanda Howe, President of WONCA. Donald had his talk on WONCA and I concentrated on the development, training and examinations of the College.




Drs. Lau Ho Lim, Liang Jun, Dao Man Chi, Chiang Lap Kin, and Dana Lo had all contributed to the various topics and showed a strong Hong Kong presence. I must also thank our Executive Manager, Ms. Erica So in helping promote our 40th Anniversary Conference to the 2000 delegates. China healthcare reform has put a major emphasis on our discipline and I was heartening to see significant progress in skill development, recruitment and aspiration for more trained family doctors.

Most of us missed the chance to visit Piano Island (Gulangyu) in Xiamen but this was well compensated by the delicious "free" dinner offered by Donald and we all knew he was synonymous with high standard cuisine.



Professor Martin Roland was the inaugural Chair in Health Services Research, University of Cambridge. He was appointed the HKCFP Visiting Professor in Family Medicine of the University of Hong Kong and visited us from 24th -31st March 2017. He was a GP at Manchester, UK and is a keen supporter of Manchester United knowing that there are a lot of Red Devils in Hong Kong.
His visit started with the Primary Care Research Symposium co-organized by Department of Family Medicine and Primary Care, HKU and the College on 25th March, 2017. Professor Roland delivered the keynote speech on "Designing Health Care Systems for Patients with Complex Conditions". Most healthcare systems in the world including Hong Kong face increasing challenges from patients with multiple health problems including elderly people with frailty and advanced illness. Often the needs of these patients are poorly met by existing health services, especially those focusing on care by sub-specialists, those designed for single episodes of care, and those where remuneration is based on fee for service. All these tend to fragment care for this group of patients who need team-based whole-person care. This is a true reflection of the present healthcare system in Hong Kong. He was also involved in a lively Roundtable Discussion on "The Future of Primary Care" in which I was a discussant. Here came my favourite topic on training and manpower, highlighting the severe lack of trained family doctors in Hong Kong.
He thought there were many opportunities for Hong Kong to play a vital role in the development of primary care in Mainland, and encouraged us to collaborate with local and overseas universities to build teaching and research capacity. He observed that our family medicine and primary care undergraduate curriculum depended a lot on the good will of many honorary teachers, who are members of the College, in teaching students in their practices. This might be difficult to sustain without Government subsidy. The sharing of his experience from the United Kingdom has sent out a strong message to the Government and society at-large the importance of investing in family medicine and primary care for the aging population.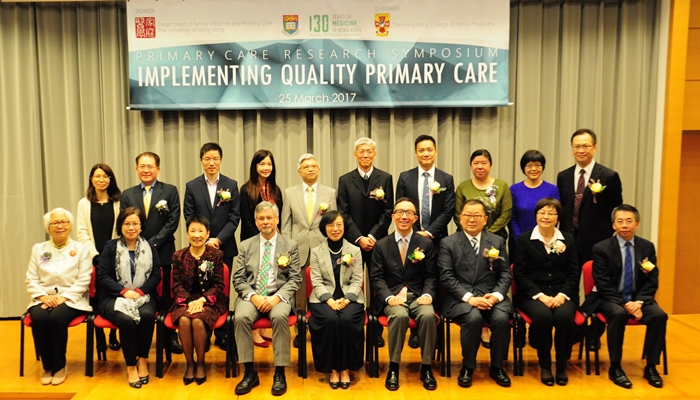 Dr. Angus M W CHAN
President