About HKCFP > President's Message

January 2015
This is the first presidential message of my two-year term.



I dream the dream, the dream comes true. This is beyond my wildest dream to be your new president of this beloved College. The hard work of all my predecessors and censors have laid a strong foundation which makes life much easier for me. Without their inspiration and encouragement, I will never be the person I am today.




I graduated from Glasgow, Scotland and returned to Hong Kong in 1996, just before the changeover. I sat my Exit Examination in the millennium and my career has since grown with this College.




On 13th December 2014, I chaired the 400th Council meeting, what a milestone! Let me introduce my executives: Dr. David Chao, Vice-President (Education and Examinations), Dr. Lau Ho Lim (General Affairs), Dr. Billy Chiu (Honorary Secretary), Dr. Yuen Shiu Man (Honorary Treasurer), and Dr. Ruby Lee (Immediate Past President). We welcome our new Council member, Dr. Daniel Chu. In fact he is a veteran of the Council and we are glad he offers his expertise again. Other Council members included: Dr. Simon Au, Dr. Alvin Chan, Dr. Chan Hung Chiu, Dr. Chan Kin Ling, Dr. Mark Chan, Dr. Chan Wing Yan, Dr. Mary Kwong, Dr. Tony Lee, Dr. Lorna Ng, Dr. Ngan Po Lun, Dr. Wendy Tsui, Dr. William Wong, and Dr. Gene Tsoi as co-opt. Our Board of Censors are Professor Cindy Lam, Dr. Stephen Foo and Dr. Donald Li. The Council would like to thank Dr. Chong Man Yuk for his valuable contribution to the College in the past years.



On the same evening was my favourite event of the year-The 37th HKCFP Annual Dinner. Over 180 guests, fellows, members and staff joined the dinner. The Fabulous Three, Dr. Chan Hung Chiu, Dr. Kenny Kung and Dr. Yeung Wai Man performed the charming and soothing songs and music. Dr. May Lam and her husband Mr. Bernard Yim performed the elegant Flamenco dance and guitar play. Everybody was mesmerized by the sound of music and the emotional tapping dance. No wonder why nobody noticed my presence. The best was still to come, the lucky draw. Once in a lifetime, my magic hand picked out our Executive Manager, Miss Erica So for the third prize and the grand prize went to Ah Ki, our longest serving staff who has just retired this year. I couldn't help to give the wee man a big hug. What a lovely fluke!
Ming Pao has been working with Hong Kong Academy of Medicine for a series of Healthcare column since November 2013. Thanks for Dr. David Chao's liaison and coordination with Ming Pao, Dr. Fung Hoi Tik Heldi and I carried out an interview in October 2014. We talked about the principles of Family Medicine, our daily challenge and the training and examination pathway of family doctors in Hong Kong. The interview can be reviewed on both newspaper format and online-video format
http://www.mingpaohealth.com/doc.htm
.
I was involved as one of the judges in choosing the BORT (Best Original Research by trainee) of HKAM with the presentation on 19th December 2014. We had no entry last year while this year we had three good pieces of work with very high standard. One of our trainees missed out by the smallest margin to be chosen for the final six for presentation. I encourage more submissions from our trainees next year. One day we will win!
The Honorary Fellowship, the highest recognition of this College is opened for nomination. Please give us yours suggestion if you feel any member or fellow deserved the honour.
2015 Wonca Asia Pacific Regional Conference and the Cross Strait meeting will be held simultaneously from 4th to 8th March, 2015 at Taipei, Taiwan. The theme is "Family Medicine: New Horizons and Challenges". Hong Kong will send out a strong delegate and a number of Council members will attend as well. I am invited to speak on the topic: The development and challenge of continued medical education for family doctors. I hope to meet you all in Taipei.
All in all, there are no excruciating upheavals at the moment though I should be blessed with a healthy dosage of bumps in the road every now and then that really serve to remind me of the basics of Primary Care and Family Medicine, and the soothing importance of friends and families. I sincerely need all your support and assistance over my two-year term.
Wishing you all a prosperous and healthy 2015!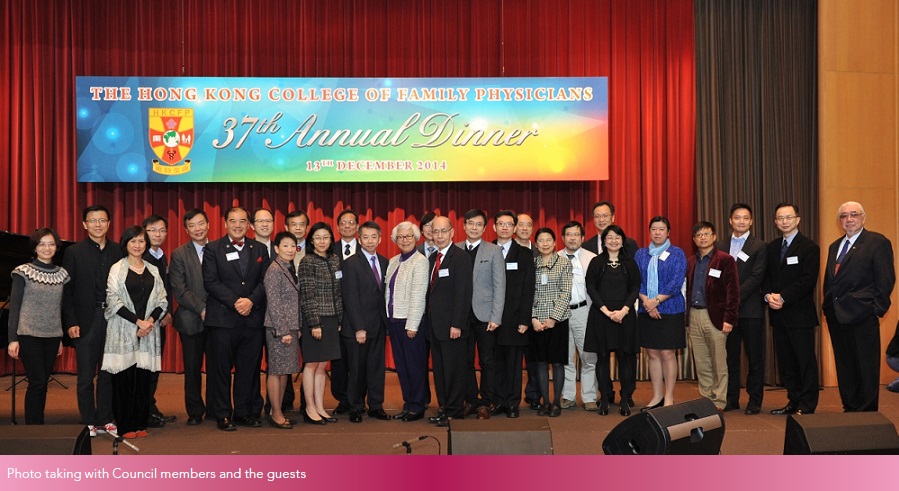 Dr. Angus M W CHAN
President